There is a Hollywood History Museum at the old
Max Factor building
in Hollywood. Wanna be an actor? See old Max Factor he'll make your kisser look good. The Oscars people, the Academy of Motion Picture Arts & Sciences, is also building a
Hollywood History Museum
as of 2019. But there was
an earlier attempt to make a museum
happen in the 1960s (shown left w/Capitol Records bldg in bknd). A museum of phoniness is a tricky proposition because, while the movies may be glamorous and exciting to watch, the production of them is not. A plastic ray gun with glue seams all over it from a 1930s Flash Gordon B movie is not even as glamourous as the Flash Gorden serial itself, and they were very low budget. Does this belong in a museum?
It was decided that this museum was going to be about people, artists, creators first and the history of movie technology second. There would also be soundstages, research facilities, and even a primitive information center that presaged the modern Internet. The design concept was by iconic architect
William L. Pereira
(LAX, Disneyland Hotel, Pepperdine Campus, Transamerica Building). But struggles over money and land began almost immediately.
According to the Academy "In December 1960 the board of supervisors suggested that the film industry put up half the cost of the project. This caused the HMA concern and was an early warning sign of the troubles to come. Over the next few years the HMA raised nearly $500,000 and gifts continued to accumulate. Groundbreaking ceremonies were held at the proposed site on October 20, 1963. Debs and Lesser, along with Gene Autry, Walt Disney, Jack Warner, Mary Pickford, Gregory Peck, Gloria Swanson, and others, addressed an audience of several thousand people. " One of those people was little David Cason who still remembers getting to meet Mary Pickford as a boy.
But problems then compounded each other. According to the Academy "A county-condemned building on the site necessitated the eviction of its occupant, who consequently held sheriff's deputies at bay with a shotgun for several weeks until his arrest in April 1964. The dramatic standoff received much attention from the media, and taxpayers began to question the expenditure of public funds. The attorney for the evicted man immediately sued the county to prevent the sale of bonds to finance construction. ... By late 1964, after having invested more than $1,000,000, the county froze funding. When Lytton saw the architect's plans in March 1965, he claimed the museum would cost $21 million to build. This estimated price tag far exceeded the original $6.5 million proposal and surpassed the amount of money raised thus far. Arguments ensued over how much the building would cost and where the money would come from. The HMA then suspended financial operations and stopped soliciting monetary donations. Two months later the county had completely withdrawn its support. The following month the proposed site was paved over to create a parking lot. "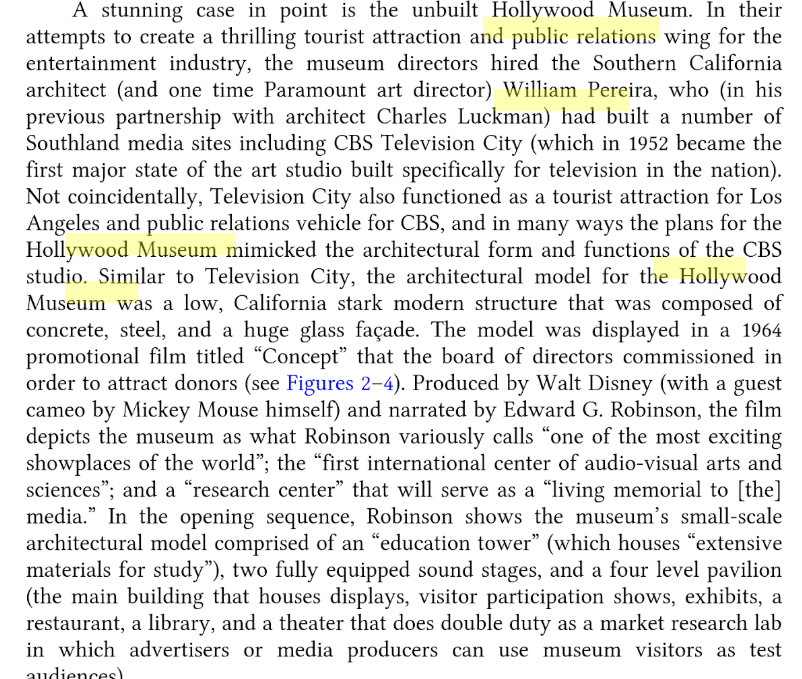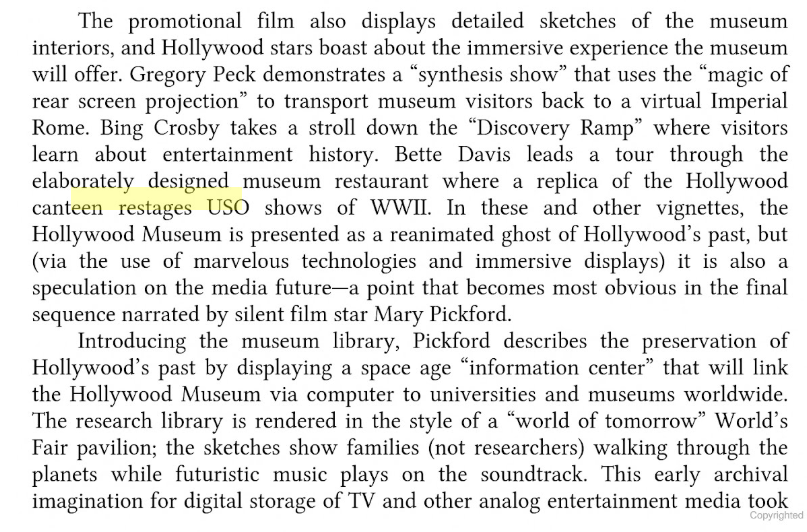 SOURCE: MEDIA HISTORY AND THE ARCHIVE BY CRAIG ROBERTSON



The presentation appears to be made on a sound stage

Presenting the concept

Model of exhibits

Model of exhibits

Model of sets

Model of sets

Model of sets

Model of sets

Recreating a nickelodeon

Exhausted, their labors reach a dead end